---
About Us
Bayliss & Samra Commercial Realtors commenced operations on 1st July 2005. The business has a sole focus on the commercial property sector, a market which requires a high degree of expert knowledge and experience. Being a specialised agency allows us to provide a more efficient, hands-on service, which is tailored to meet the individual needs of each client and the project at hand.
Co-founders Amrit Samra and Mark Bayliss established the business with a combined 37 years of experience within the Commercial Real Estate industry on the Gold Coast.
Both Mark and Amrit worked for international agencies until recognising an un-serviced gap within the property market.
---
Director
Amrit Samra : Sales, Business Development, Property & Asset Management
Mobile: 0407 449 567 | Phone: (07) 5504 1900
Email: amrit@bscr.com.au
Amrit Samra has been specialising in Centre Management, Sales and Leasing for over 21 years. He has been involved with many properties, managing a number of centres and retail strips including but not limited to Phoenician, Moroccan Retail, Le Boulevard and Santorini as well as numerous office towers including Breakfree House and Gateway. These centres included tenants to the likes of Gucci, Prada, Bi-Lo and Coles Shopping Centres and financial institutions such as Westpac.
Amrit is now handling leasing, sales and the management of properties from North Brisbane to Northern NSW. The Commercial Management portfolio extends to welcome new investors to and of course long term clients which Amrit has sustained relationships with throughout his career.
---
BSCR Team Members

Lisa McNeil : Property Services
Phone: (07) 5504 1900
Email: lisa@bscr.com.au
With one of the most diverse roles within the company, Lisa's extensive knowledge & experience within the industry is invaluable in the operations of the business. Over-viewing the Trust & General Accounting along with the administration of Office Management, Property Management, Sales & Leasing, Lisa takes a "hands on" attitude in ensuring that all aspects business are covered.

With knowledge in all areas of the business, Lisa has designed and implemented many of the systems that are utilised on a day-to-day basis within each area of the company. Her ability to update and improve such systems when required allows Bayliss & Samra to operate at their most efficient. Her understanding, attention to detail & organisational skills are an essential quality that maintains and contributes to the efficiency and effectiveness of the Agency.
---

Rebecca Damsma : Property Services
Phone: (07) 5504 1900
Email: cpam@bscr.com.au
Rebecca joined BSCR with a wealth of experience in the property industry, including but not limited to property managements, sales support and business development. Her organisatonal skills are an excellent asset to the business.
Rebecca's role within the office focuses on providing a thorough support system to both the sales & leasing team, as well as the property management department.
---

Chrissy Gowen : Sales Support & Administration
Phone: (07) 5504 1900
Email: cpam@bscr.com.au
Chrissy joined BSCR from a property background in NSW. She possess a solid background in the sales, leasing & property management departments, and is a fantastic addition to the team, bringing with her a bright, cheerful and helpful nature.
Within the office, Chrissy focuses on providing support to the sales & leasing department, including our administrative support services.
---
Co Founder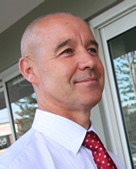 Mark Bayliss
We will always honour and remember Co Founder / Director, Mark Bayliss who jointly with Amrit Samra launched Bayliss & Samra in 2005. Up until his tragic passing on 20th May 2009, Mark's vision, passion and determination set the solid foundation for what Bayliss & Samra strive and stand for today.
Mark's attention to detail and ability to place his clients first has earned him significant loyalty and success through what were his many thriving years in the Real Estate industry. Mark was a mentor to all staff, owing to his persistant training and knowledge in which he instilled in all of his associates, and shall always be carried on through the legacy he has left behind.
---